Back in 2016, there were only two WordPress plugins for displaying Google and Facebook reviews. RichPlugin was one of them. In addition to the free plugin, in the business version we were the first to invent and implement the display of the rating in a beautiful badge in the corner of the site. Later it became known as a float badge, and now almost every competitor has it. It would seem that what could be cooler than a badge, it turned out maybe.
Flash Popup
Like the badge, it is displayed in the corner of the site, but unlike the badge, the popup appears and then disappears. The popup shows information about the latest reviews one by one, showing the rating of the review, author's name and photo. You can see it in action right on our website here.
Flash popup has many options, you can set the startup interval, visible and invisible periods, corner position, show or not reviewer photo: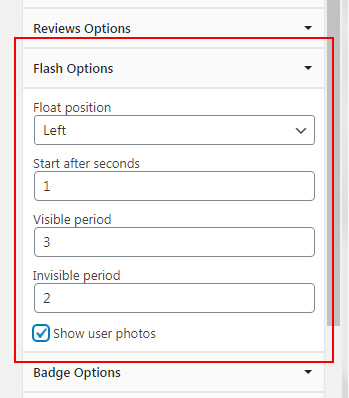 Why is so important
We would like to pay attention to the question of why this opportunity is so important. The fact is that in a normal situation, reviews on the site are displayed somewhere in the middle or even at the bottom of the homepage, for instance, in a slider or grid view. Sometimes a site has a separate page for reviews, something like https://mywebsite.com/reviews. In this case, there is a high probability that users may not see your reviews or pay attention to them and simply leave the site.
But everything changes if, after a couple of seconds, a beautiful popup appears on any page of your site with information about the recent 5 stars review, after a few more seconds a second review appears, and so on. Undoubtedly, it attracts attention, users will definitely pay attention to it, click and maybe read all other reviews. The goal has been achieved, site users have seen and read your trusted reviews and perhaps these are already your customers.
By the way, if you get a lot of reviews, for example, several a week or even a day, this effect is amplified, as users see that the reviews are quite new and were published quite recently.
Where is it
The flash popup is available in the Business Reviews Bundle plugin since from the version 1.7.8 (at the time of this post, the current version is 1.8). You can find and set up it in the option Reviews Options / Theme of a collection. Except a flash options, all common others, like disable a time, user name or avatar (Reviews Options) is also applicable for a flash popup.
We would love to hear any questions or comments, do not hesitate, just ask!